Most Diverse States in the US in 2023
Step into the vastness of the United States, where a hidden marvel awaits: the heartbeat of America echoes through its vibrant and ever-evolving multicultural hubs.
Traverse diverse landscapes where unique customs and fresh perspectives blend, revealing the richness of America's cultural melting pot. Together, let's celebrate the cultural prosperity of these diverse states that merge to weave the colorful fabric of the US.
Diversity in the US
The US has earned its reputation as a vibrant land that attracts individuals from every corner of the globe, constantly adding to its rich cultural diversity.
Cultural diversity is a key metric to assess the nation's varied makeup. The United States officially recognizes six racial categories: White, American Indian and Alaska Native, Asian, Black or African American, Native Hawaiian and other Pacific Islanders. The US Census Bureau further classifies Americans into "Hispanic or Latino" and "Not Hispanic or Latino." The term "person of color" encompasses individuals who do not identify as white, and sadly, they often share the experience of being subject to racism.
While the majority of the US population is presently categorized as white, the country's undergoing a considerable transformation with increasing racial and ethnic diversity. It's projected that by 2050, the Hispanic population will comprise approximately one-quarter of the total population. Moreover, the USCensus Bureau predicts that the nation will no longer have a single ethnic majority by 2044.
As of 2019, the US Census Bureau approximated the composition of the US population as follows: 60.1% non-Hispanic white, 18.5% Hispanic and Latino, 13.4% Black or African American, 5.9% Asian, 2.8% two or more races, 1.3% Native Americans and Alaska Natives, and 0.2% Native Hawaiians and other Pacific Islanders.
20 Most Diverse States in the US
State

Total Diversity Score

Socio
economic Diversity

Religious Diversity

Political Diversity

Household Diversity

Economic Diversity

Cultural Diversity

California

70.62

1

11

8

32

32

1

Texas

70.04

4

13

36

39

6

9

Hawaii

69.67

3

3

13

4

34

22

New Jersey

69.36

6

43

39

10

19

7

New York

69.19

9

41

4

9

21

6

New Mexico

69.17

7

4

2

21

22

42

Florida

68.70

5

33

3

5

38

26

Maryland

68.69

10

25

14

16

30

4

Nevada

68.62

2

36

1

20

45

27

Arizona

68.13

8

24

6

34

41

20

Illinois

68.05

12

39

20

19

7

11

Virginia

67.84

14

19

38

14

25

5

Georgia

67.75

13

18

21

25

16

19

Connecticut

67.19

15

46

24

22

27

8

Alaska

66.95

11

1

27

2

44

28

Delaware

66.61

17

35

25

16

35

17

Washington

66.54

16

20

31

6

43

10

Massachusetts

66.36

18

50

12

32

33

2

Colorado

66.35

19

31

35

35

40

3

North Carolina

66.34

21

26

16

32

28

24
Measures That Can Be Taken to Maintain Peace in Diverse States
Foster education and awareness:

Implement comprehensive educational programs that promote cultural understanding, tolerance, and empathy from an early age. Encourage schools to teach diverse histories and narratives, emphasizing the contributions of different cultures and combating stereotypes.

Promote inclusive policies:

Advocate for inclusive policies that protect the rights and well-being of all individuals, regardless of their race, ethnicity, or background. This includes equal access to healthcare, housing, employment opportunities, and legal protections.

Strengthen community engagement:

Encourage community engagement initiatives that bring people from different backgrounds together, fostering dialogue and collaboration. Support multicultural events, community forums, and platforms for open discussions to bridge divides and build connections.

Enhance law enforcement training:

Implement comprehensive training programs for law enforcement agencies to ensure fair and unbiased practices. Promote cultural sensitivity, de-escalation techniques, and community-oriented policing to build trust and reduce discriminatory practices.

Encourage diverse representation:

Promote diversity in leadership roles across various sectors, including government, businesses, and community organizations. By having diverse voices at decision-making tables, policies and practices can be better tailored to meet the needs of diverse communities.

Establish support networks:

Create support networks and resources that assist individuals and communities facing discrimination. This can include helplines, counseling services, and legal aid programs to ensure equitable access to justice and support for victims of racism.

Encourage intercultural dialogue:

Facilitate platforms for intercultural dialogue, where individuals from diverse backgrounds can share their experiences, challenges, and aspirations. This promotes mutual understanding, empathy, and the breaking down of stereotypes.

Encourage cultural exchange programs:

Develop cultural exchange programs that allow individuals from different backgrounds to interact and learn from one another. This can include student exchange programs, community immersion experiences, and cultural festivals that celebrate diversity.

Engage media and entertainment:

Encourage media outlets and entertainment industries to promote diverse and inclusive narratives. Support the production of content that challenges stereotypes and showcases the richness and complexity of different cultures, fostering empathy and understanding.
Encourage allyship: Promote the concept of allyship, where individuals actively support and advocate for marginalized communities. Encourage people to use their privilege and platforms to speak out against racism and discrimination, amplifying the voices of those affected.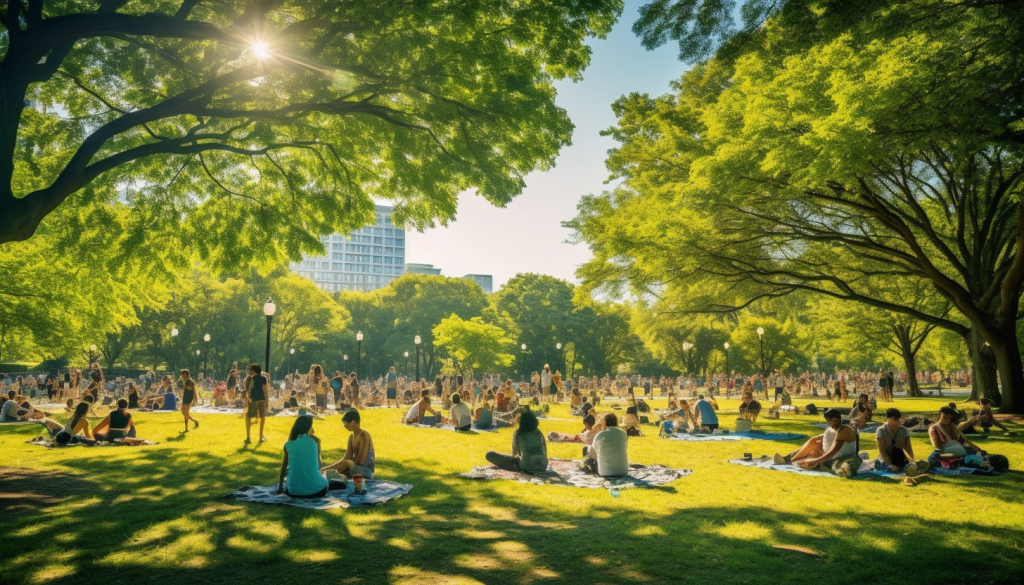 10 Least Diverse States in the US
State

Total Diversity Score

Socio
economic Diversity

Religious Diversity

Political Diversity

Household Diversity

Economic Diversity

Cultural Diversity

West Virginia

58.72

50

42

43

15

43

42

Maine

59.12

49

37

32

24

32

50

Vermont

60.55

48

37

47

3

37

47

New Hampshire

60.97

47

46

38

44

38

46

Montana

61.84

45

39

5

43

5

39

Kentucky

61.99

29

23

16

34

16

29

Wyoming

62.26

39

37

2

50

2

50

Utah

62.40

29

30

49

39

49

30

Ohio

62.79

41

42

28

14

28

42

Iowa

62.82

44

27

8

6

8

44
Most Diverse States: Conclusion
In conclusion, the rankings of the states highlight the varying degrees of diversity across the nation, urging us to acknowledge the importance of cultural, economic, religious, political, household, and socioeconomic diversity. It's crucial to note that embracing diversity and fostering inclusivity are of great importance in creating a harmonious society. 
By promoting education, inclusive policies, community engagement, and intercultural dialogue, we can build bridges and dismantle the barriers of racism. Encouraging diverse representation, enhancing law enforcement training, and fostering allyship further contribute to establishing a peaceful environment for all. 
It's through these collective efforts that we can forge a path toward a more inclusive future where the richness of our differences is celebrated and every individual is valued and respected, regardless of their background.
What are the most diverse states in the US?
California, Texas, Hawaii, New Jersey, and New York are some of the most diverse states in the US. The total diversity scores of these states are respectively 70.62, 70.04, 69.67, 69.36, and 69.19.
What are the least diverse states in the US?
Some of the least diverse state in the US is West Virginia, followed by Maine, Vermont, New Hampshire, and Montana.
What factors determine the rankings of the most diverse states in the US?
The rankings of the most diverse states are determined by various factors, including cultural diversity, economic diversity, household diversity, political diversity, religious diversity, and socio economic diversity. These factors are assessed using comprehensive data analysis and statistical methods to provide an objective measure of diversity within each state.
How does cultural diversity impact a state's ranking?
Cultural diversity encompasses the representation of different ethnicities, languages, traditions, and customs within a state. A higher cultural diversity score indicates a greater variety and richness of cultural backgrounds present within the population. This diversity fosters cultural exchange, enhances social cohesion, and contributes to a vibrant and inclusive society.
Why is economic diversity considered in the rankings?
Economic diversity evaluates the range of industries, job opportunities, and economic activities present within a state. A higher economic diversity score signifies a more balanced and resilient economy. It indicates the presence of diverse sectors, reducing the state's vulnerability to economic downturns and promoting stability and growth.
How does household diversity contribute to a state's ranking?
Household diversity reflects the composition of households within a state, considering factors such as family structures, household sizes, and living arrangements. A higher household diversity score signifies a greater variety of family types and living situations, reflecting the diverse ways in which people form households and build their lives.
What does political diversity indicate in the rankings?
Political diversity evaluates the range of political ideologies, party affiliations, and voting patterns within a state. A higher political diversity score suggests a broader spectrum of political perspectives, fostering a healthy democratic discourse, and ensuring that multiple voices are represented in the political landscape.
How is religious diversity assessed in the rankings?
Religious diversity takes into account the presence of different religious beliefs and affiliations within a state. A higher religious diversity score indicates a greater range of religious practices and traditions, highlighting the acceptance and coexistence of various faiths within the state's population.
Why is socioeconomic diversity considered important in the rankings?
Socioeconomic diversity evaluates the distribution of income, education levels, and occupations within a state. A higher socioeconomic diversity score suggests a more equitable distribution of resources and opportunities, promoting social mobility and reducing disparities between different segments of the population.
Can states improve their diversity rankings over time?
Yes, states have the potential to improve their diversity rankings over time through intentional efforts to foster inclusivity, promote equality, and celebrate diversity. By implementing policies that support cultural exchange, education, and equal access to opportunities, states can create environments that embrace diversity and work towards a more inclusive society.
What are the six key categories of races in America?
The US recognizes and categorizes its population into six major races, which are White, Black or African American, Asian, American Indian and Alaska Native, Native Hawaiian and Other Pacific Islander. These racial classifications serve as a way to understand and track demographic data and provide a framework for studying and addressing disparities across various racial groups.
How do racial classifications impact society?
Racial classifications serve as tools for gathering data, monitoring inequalities, and shaping policies aimed at promoting equity and social justice. By acknowledging and understanding the experiences of different racial groups, society can work towards creating inclusive environments, combating discrimination, and fostering a more equitable society that embraces the diversity of its population.